Double Helix Piercings: What You Need to Know | Porter Lyons
Sometimes, one isn't enough. The beauty of double helix piercings.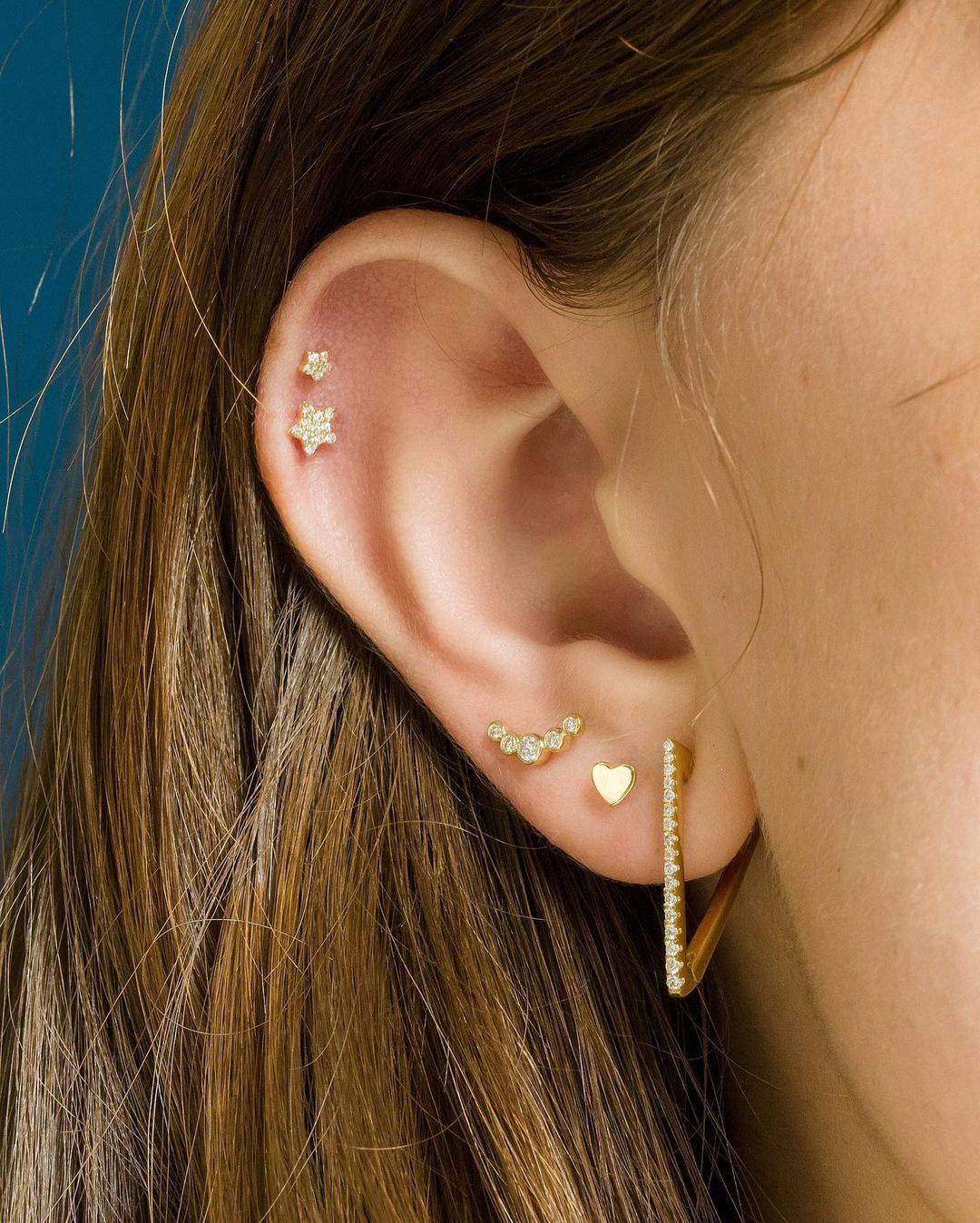 Many factors affect an ear piercing, but they tend to boil down to location and personal style. This is also true of helix piercings.
Like the lobe, the outer rim of the ear offers several options. Some people prefer a spike, others a piercing closer to the beginning of the outer ear, i.e., the forward helix. The latest trend is double helix piercings, with two piercings side by side.
What is a double helix piercing?
Double helix piercings consist of two holes pierced right next to each other anywhere on the helix, allowing you to wear two different earrings in succession and lay the foundation for an epic ear stack.

The look of the double helix is the main reason for choosing this style. Many find it hard to resist the chance to coordinate unique earring pairings, and the helix offers lots of space and aesthetic possibilities. It can hold a combination of small hoops, flat-back stud earrings, and spikes.
Healing and Aftercare
Double helix piercings are made in the cartilage of the outer ear, a site that provides shape and flexibility. Cartilage is tough and forms much of the ear; the exception is the fatty tissue of the lobe. The healing time for piercings along the outer edge tend to be shorter than for piercings on inner sites. Double helix piercings take three to six months to heal fully. It is best not to sleep on new piercings, so we recommend piercing one ear at a time.
During the healing period, spray the holes with saline solution twice a day to protect them from infection. To make cleaning as easy as possible, Porter Lyons' luxury ear piercing services come with an aftercare kit following your piercing session. The kit includes everything you need to keep your helix healthy

Jewelry for Double Helix Piercings
Once your double helix piercings are healed, you can play around with many different styles. Any jewelry placed on the outer edge of the ear creates a sort of halo effect that is especially vibrant when earrings are stacked side by side. One of our favorite ways to style a double helix piercing is to showcase two sizes of the same earring next to one another: the Star Threaded Flat Back paired with its miniature version, or the Diamond Treaded Flat Back alongside the Mini Diamond Flat Back, for instance.
Double helix piercings are also great for small hoops, whether solid gold or gem-encrusted. Clicker hoops stay in place securely and outline the arc of the ear. Stud pieces also work well, filling the space just under the ear fold. Flat-back stud earrings are practical for every-day, all-day wear; the smooth closure keeps the post from poking the back of your ear.
With double helix piercings, you can make unexpected pairings to create a work of art all your own -- something to consider whether you are just starting your ear curation or are filling it out. For help with decisions about piercing, feel free to email us with any questions you may have at piercings@porterlyons.com or call our New Orleans jewelry store at (800) 585-0348.