How to Style the Perfect Ear Stack | Porter Lyons
How to Style the Perfect Ear Stack
Whether it's your first ear piercing or your fifth, the possibilities for creating a unique look for your ear are endless.
You've got the piercing. Now all you need is a signature ear stack. There are many tried and true methods of building a unique set.
The humble ear stack has become an art form, which can make the task of creating a collection to fill your latest piercings seem a bit daunting. It doesn't have to be. The ear stack represents a personal quest that can have reflective or expressive meaning. Although you may be guided mostly by practicality when building it, you can also focus on a specific style or theme. Here are three of the many ways to perfect your next ear party.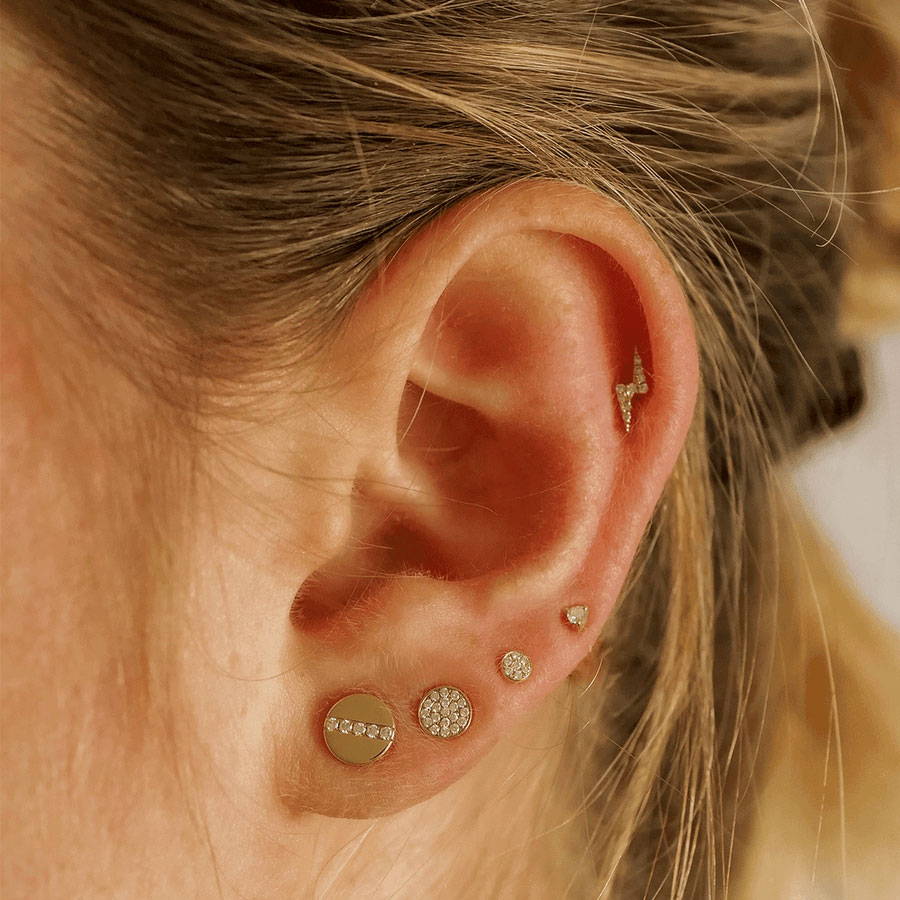 Consider the Piercing
Newly pierced ears lend themselves to simpler styles. Because these sites swell as they heal, it's best to start with classic studs. Porter Lyons earrings come in varying post lengths for different piercings. Sizing up one length gives the site room to heal. We recommend that you save the hoops and clickers and more intricate earrings until after your ear has fully healed.
Our favorite earrings for a stud stack include the Petite Threaded Flat Back and Mini Baguette Flat Back earrings. Each style is crafted from various stones for a customized look that easily matches your usual jewelry pieces.
Center a Color
Is there a metal or color that tends to dominate your jewelry wardrobe? If so, that's a natural starting point for a stylized ear stack. You can develop an all-gold look or one with varying shades of red. Such a theme can serve as a guiding light to help you select among many great alternatives.
So if blue is your hue, try the gradient wash of blue sapphire in the Mama Open Hoop Earrings as your anchor. For contrast, pair it with a Small Sapphire Huggie Hoop, Sapphire Baguette Earring, and a Marquise Diamond.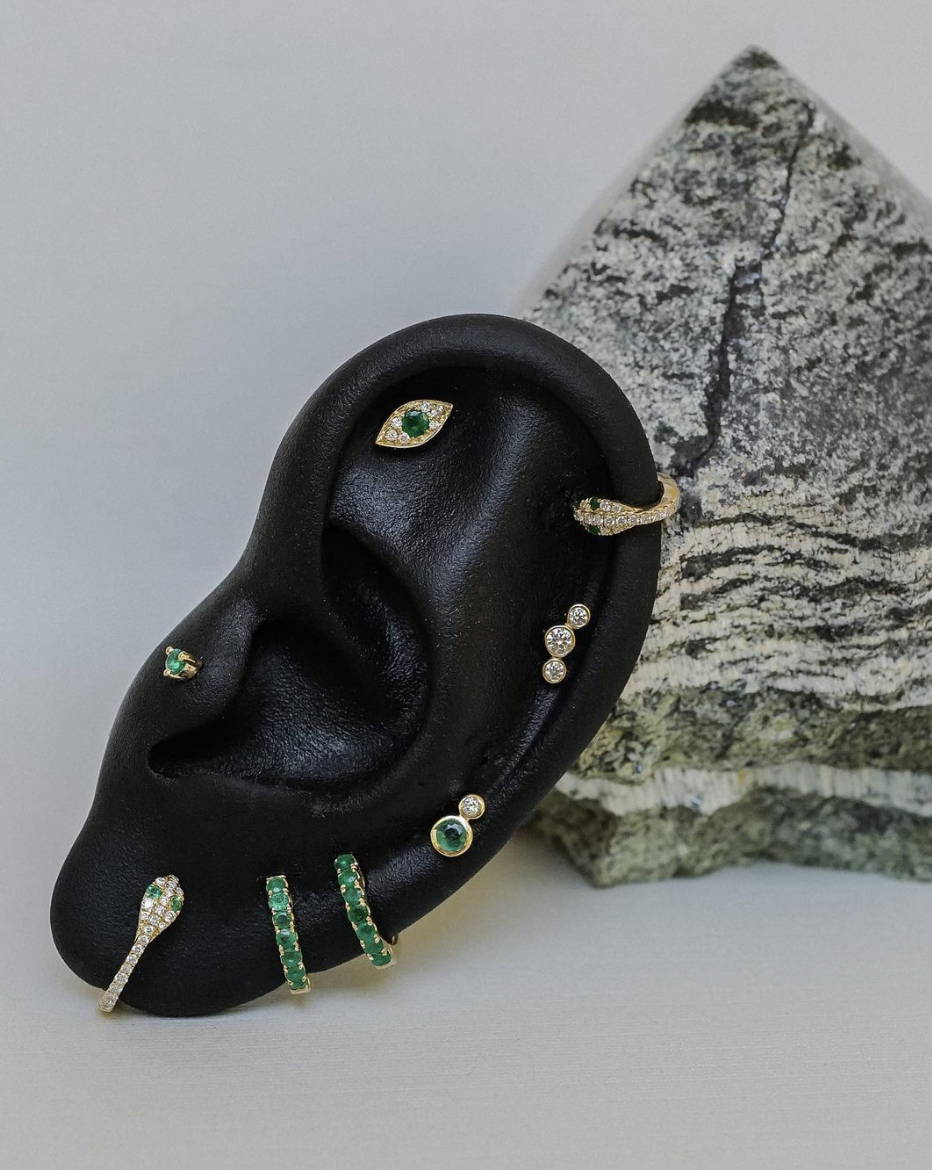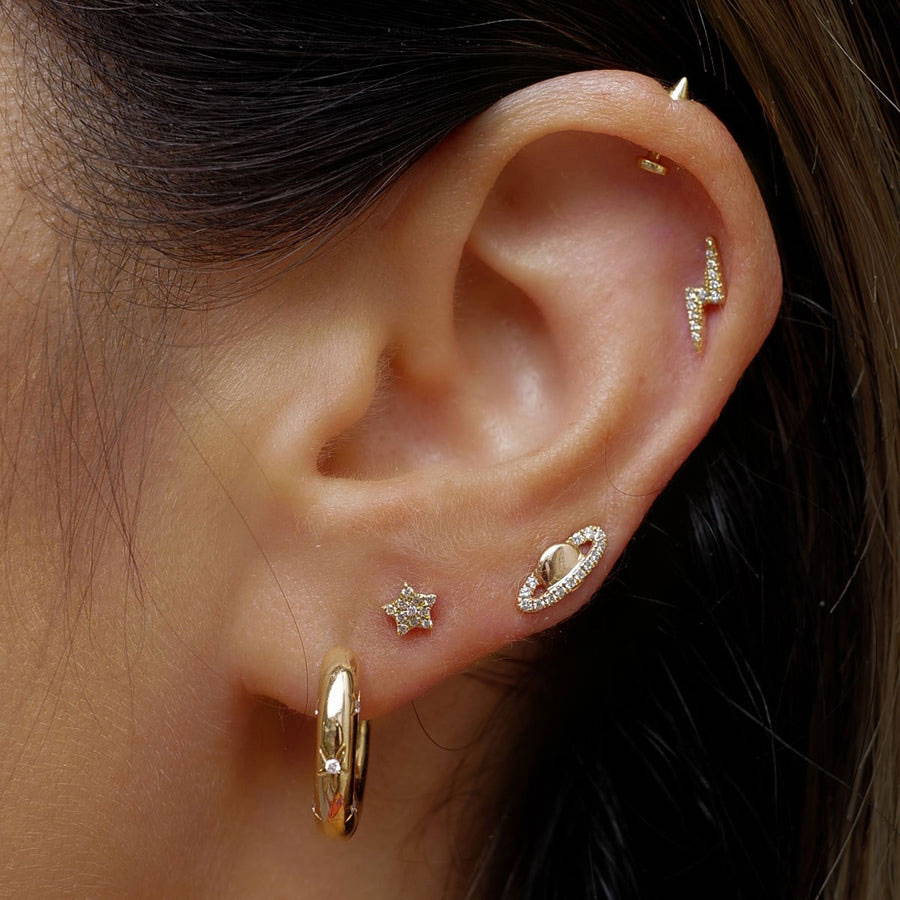 Choose a Personal Theme
Since ear stacks are so personal, one way to develop yours is by choosing symbols or shapes that have meaning for you. If that's moon and stars, try celestial hoops for an ear stack that suggests cosmic wonder. If a certain animal is significant in your family, build a stack on that basis.
The key is to find a style that you like and to play with proportion. For a geometric focus, consider starting with the Triangle Hoop. Add the mini version alongside a Double Diamond Chain Earring and Daith Lock Hoop to complete the look.
The perfect ear stack is what you make it. That's why they are so fun to curate. A new piercing is a blank canvas that invites you to discover a look that is both unique and accessible. One that can also evolve. So if you don't quite find the arrangement that is perfect for you all in one go, that's okay. Take the time to build a collection that authentically expresses your taste.
Visit our New Orleans jewelry shop for a styling consultation, or schedule an ear piercing appointment. Then show us your latest ear stack on Instagram.