Our in-house piercing studio in New Orleans welcomes you to a full-service experience that includes everything from piercing to style consultation to aftercare.
Around the world, ear piercings have a rich cultural history. They are a form of creativity, a ritual, and a marker of important events in life. Porter Lyons offers personalized, luxury ear piercing services at our New Orleans jewelry store that provide you with the best possible care. With an in-house piercer who has over 15 years of experience in the industry and a signature collection of piercing earrings to choose from, we have everything you need for a safe and seamless session.
Types of Ear Piercings
We offer piercings in 11 parts of the ear: the lobe, antitragus, conch, contra conch, helix, inner rook, helix spike, outer rook, forward helix, daith, and tragus. Each piercing heals at a different rate, with certain earrings fitting better in a given location. For new piercings, we recommend that you use studs rather than hoops and that all post lengths be either 6.5 mm or 8 mm, depending on the location of the ear. These features give the new piercing enough wiggle room to permit swelling and proper healing.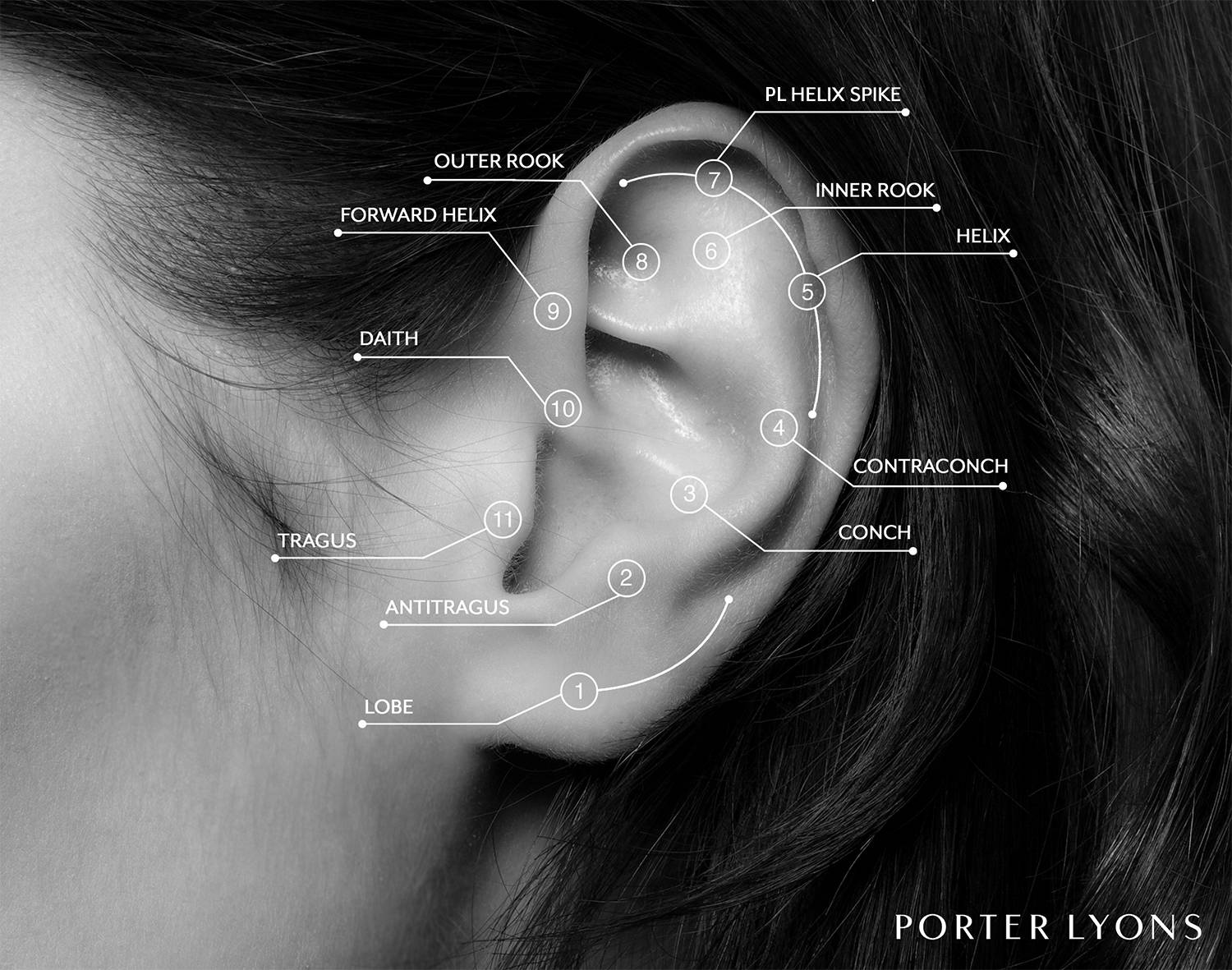 Lobe
The most often modified site, the lobe is wide enough to accommodate several piercings. Heavier earrings like hoops, loop chains, and threaders are good here. The fatty connective tissue of the lobe makes this a quick piercing that causes less pain than is felt at other sites. Healing takes about two months.
Antitragus
An antitragus piercing is perfect for adding a small hoop or barbell to your collection. The piercing is performed on the smooth ridge of fold skin directly above the earlobe and opposite the tragus. Because this area is made of cartilage, connective tissue that supports bony areas requiring flexibility, it is a tender spot. During healing, this piercing spot will be sensitive and could make it difficult to sleep on or wear headphones, and it may take up to a year to fully heal.
Conch
The conch is the center part of your ear and, as the name suggests, it resembles a shell. The conch is a highly customizable location for unique studs and gemstone hoops -- a fun choice for the adventurous. A conch piercing may be more sensitive because of the cartilage in this area. Healing takes six to nine months.
Contraconch
The exact anatomy of your ear has a lot to do with which location is best for piercing; one part of the ear will have more room than another. The contraconch or outer conch -- located above the conch -- is a great place for wearing hoop earrings higher on the ear, creating an aesthetic tension in your ear stack. Healing takes six to nine months.
Helix
The helix is the outer cartilage that frames the ear, surrounding the upper section. Like the lobe, the helix is a large area. It has become a trendy location for piercing because it can hold many of your favorite flat back earrings as well as hoops with quick changes. Healing takes three to six months. Learn more about double helix piercings.
Inner Rook
An inner cartilage on the upper part of the ear, the rook is under the frame of the helix. It's a good area for stud earrings and some hoop styles. Healing may take over nine months.
Helix Spike
Add seamless dimension to your ear stack by including a spike on the upper portion of the helix. Lending a cool edge, a spike earring here seems like a natural extension of your ear. Healing may take less than six months.
Outer Rook
The outer rook is a small ridge of cartilage on the inner fold of the ear near the forward helix. The position can make the piercing a bit harder than usual to perform. Though often neglected, the outer rook is a good place for pretty, delicate pieces like curved barbells and thin gold hoops. Because of the amount of cartilage, healing can take up to 18 months.
Forward Helix
The helix begins with the forward helix: the skin and cartilage on the upper part of the ear right above the tragus. The forward helix has become a popular site for multiple piercings; it can hold two or even three earrings. Small classic studs add a glimmer in an unexpected place. Healing takes three to nine months.
Daith
The daith consists of inner-ear cartilage, the firm fold at the crux of the helix. Your boldest hoop takes center stage here, as the daith holds one piercing. Healing time varies but on average takes about nine months. See our post on the best jewelry for a daith piercing to learn about other options.
Tragus
Located on the ridge above the ear canal, the tragus is next to the antitragus and can accommodate one earring. A piercing in an unexpected spot adds visual interest to your ear stack, and the tragus is one such spot. A piercing here can be tricky, since it must go through cartilage from a peculiar angle. But it's worth it to display that special earring.
Choosing Your Piercing Earrings
As part of the piercing experience, we include advice for curating your dream ear stack and an aftercare kit with instructions to help you heal. Our team is here to support you from beginning to end of the process.
About Post Length
Every ear is different. The post length and hoop size that you will need depend on the exact placement and on the exact anatomy of your ear. For new piercings, we recommend a post length that is one size larger than standard to properly accommodate healing.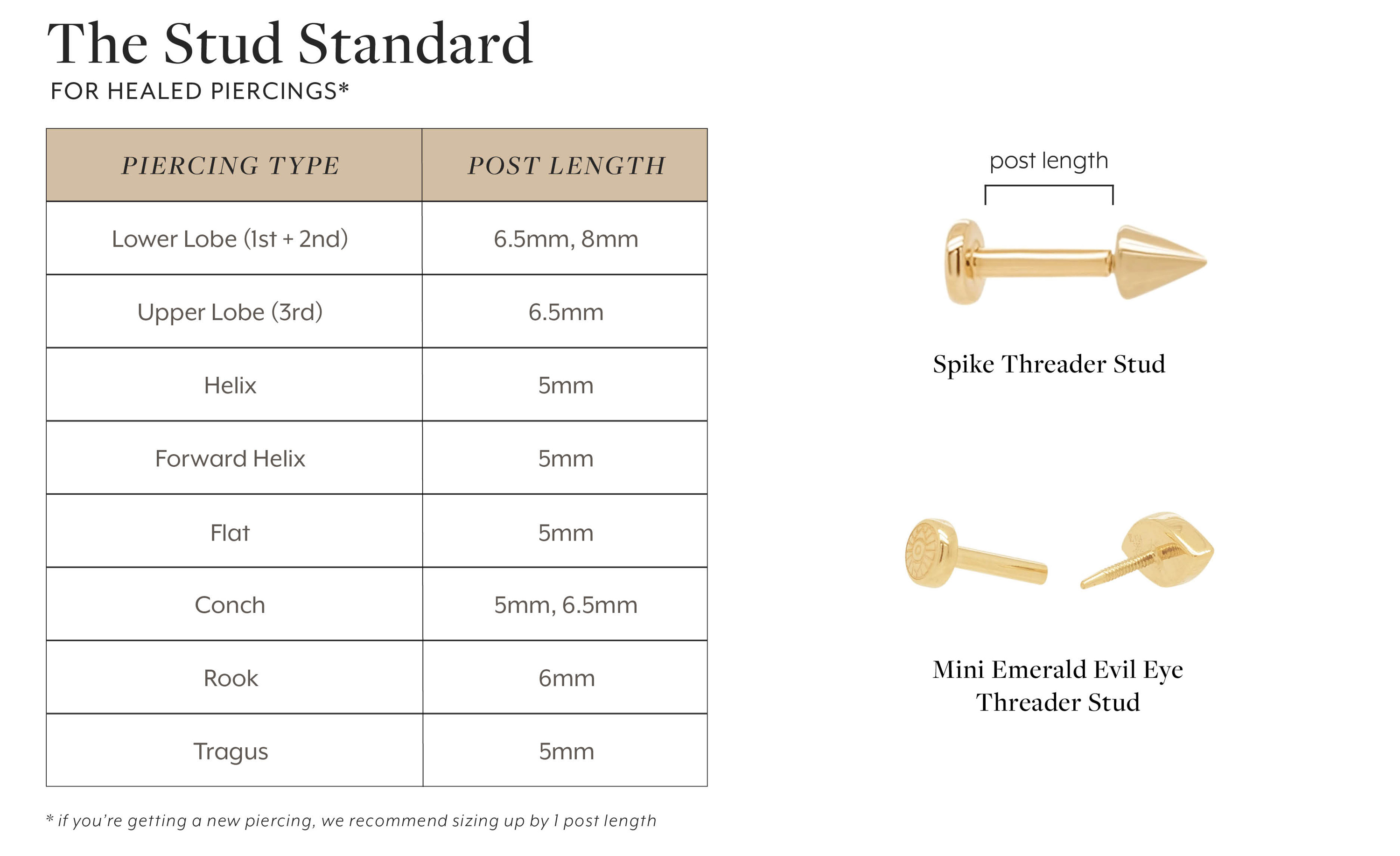 Piercing Jewelry Sizing Guide for Hoops
A hoop is measured in terms of the length in millimeters of its internal diameter. The site of your piercing largely determines which styles are most appropriate for your ear stack.
For example, a 6 mm hoop imparts a snug look to tragus piercings, cartilage piercings, and forward helix piercings. It is also a wise choice for rook piercings; a relatively small hoop won't get hung up on clothing.
For a looser fit, an 8 mm hoop is good for any type of cartilage and tragus piercing. This is the most common hoop size that can be placed just about anywhere on the ear, including the lobes. A size of 8 mm leaves a nice amount of room for healing.
A 10 mm hoop is good for daith piercings and is large enough to fit most conch piercings. Some ears may require a 12 mm hoop.
Aftercare: Healing and Cleaning
In the excitement of getting a new piercing, it's easy to overlook care and maintenance. Our aftercare kit provides the instructions and saline solution that you need to begin your care routine.
Regular maintenance of your piercing means cleaning it twice a day with a saline solution or antibacterial soap and warm water. To keep the piercing sterile and reduce the risk of infection, always wash your hands before you touch or change it. Try to avoid twisting jewelry inside a new piercing, since doing so may further irritate the site. Every site heals at a different rate. Keep in mind that a site may appear to be healed on the outside without yet being completely healed on the inside.
Treat bleeding, crust, or debris with a cotton ball or swab dipped in saline solution. Wipe the swab gently across the piercing and use a warm compress to alleviate discomfort.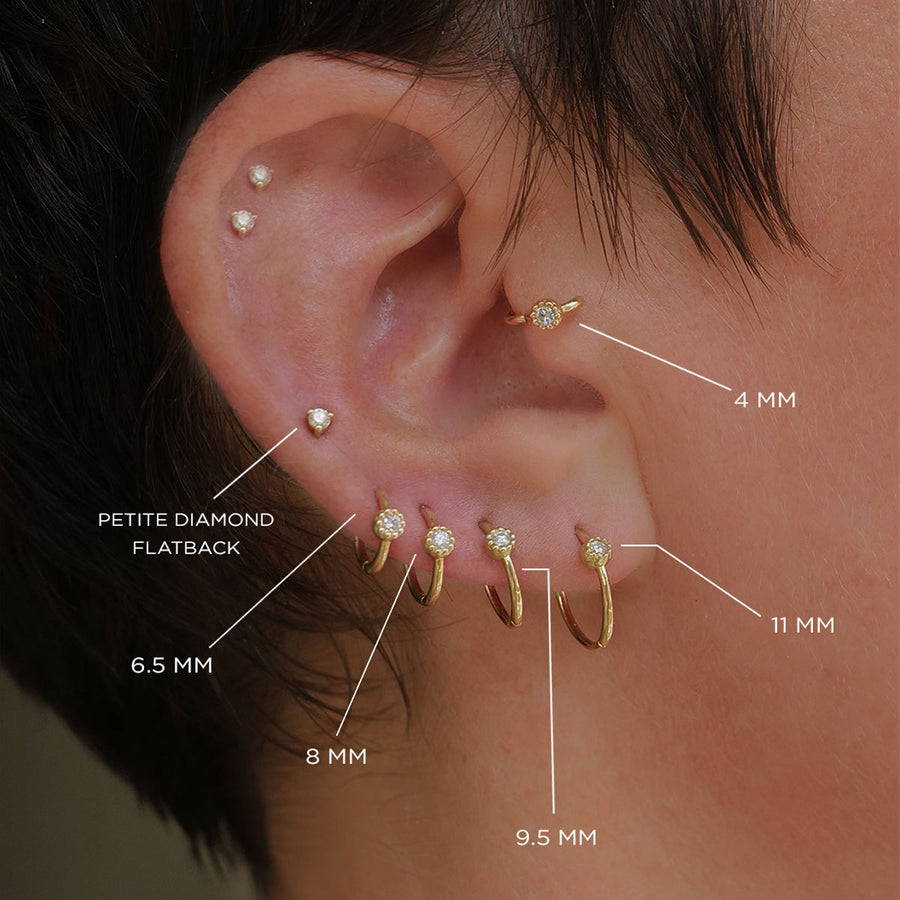 Get Your Ears Pierced in New Orleans
We look forward to welcoming you to our studio. Whether you come alone or party with friends, we are happy to welcome you to the Porter Lyons piercing studio at 623 Royal St. Schedule an ear piercing or call us with any questions at (800) 585-0348.