What Is the Best Jewelry for Daith Piercings? | Porter Lyons
What Is the Best Jewelry for Daith Piercings?
Find a curated selection of cool hoops and threaded earrings for a unique piercing site.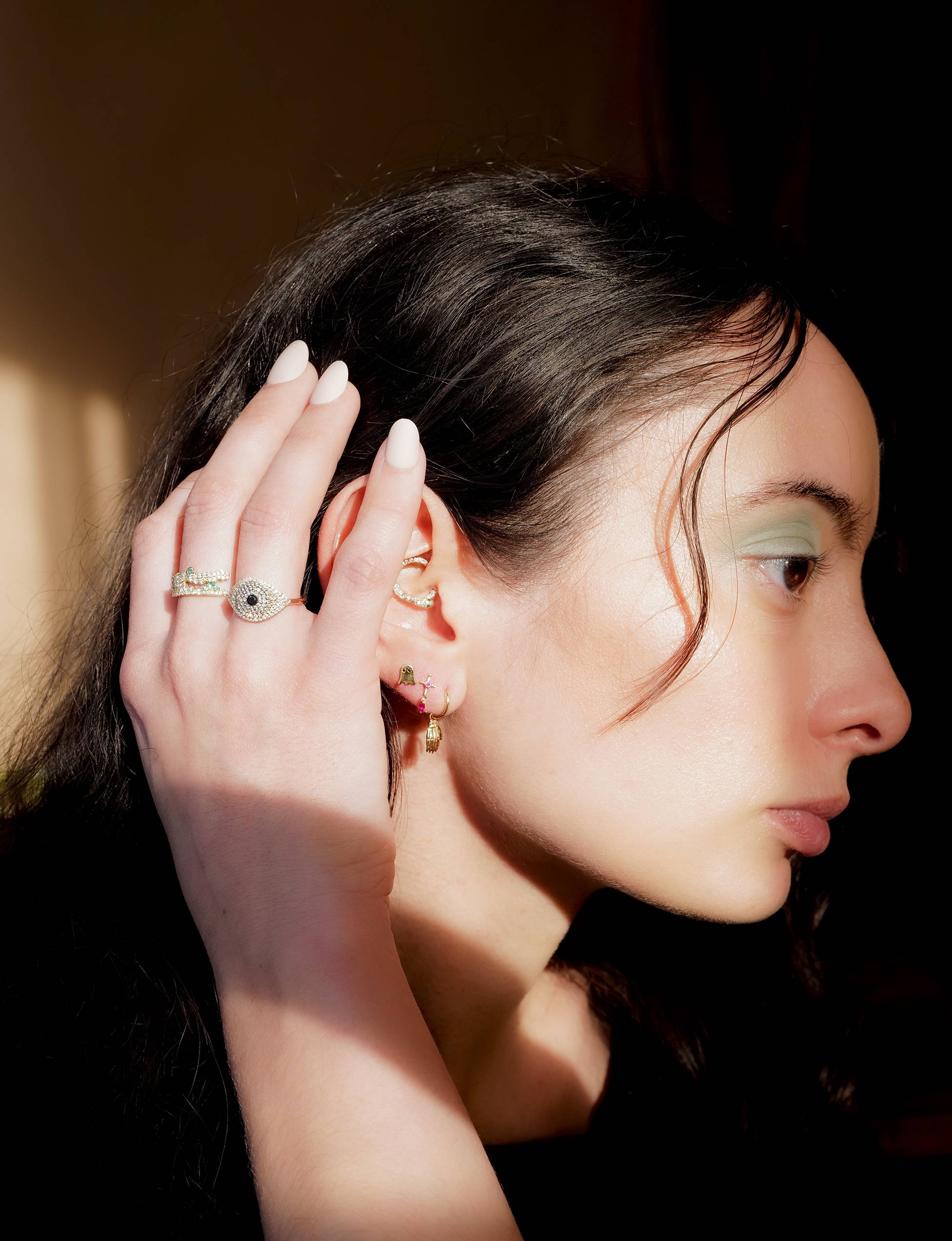 A new piercing tends to begin with location. And one piercing site in particular is often shrouded in mystery: the daith.
For one thing, there's the question of how to pronounce the word. Some say it like "doth," others rhyme it with "faith."
Then there's the question of just where it is on the ear. The daith is the innermost fold of cartilage at the base of the helix. You can find it by bringing your finger along the outside fold of the ear until you reach the beginning point closest to your face.
Daith piercings hold just one earring. That fact alone means it's primed for a statement. Because the daith is a fold, contoured pieces work best here. Daith piercing jewelry favors natural shapes that curve with the ear, like hoops and barbells. The space around the daith being tight along the inner fold, it cannot easily accommodate the post lengths of studs and straight flat back earrings. But with so many different curved earrings, you still have plenty of options to keep your ear stack interesting.
Although you may be tempted to try a jewel encrusted earring right after piercing, resist the urge. Start with hoops until your new piercing heals fully, and only then graduate to more elaborate earrings. A thin iteration like our Small Gold Lock Hoop is just the thing. The solid 14K gold is good for the sensitivity of newly pierced skin, and the lock closure keeps it secure in your ear.
Part of our new piercing collection, our Diamond Snake Daith Lock Hoop is available in 8mm or 9.5mm. This gem still provides a simple hoop for newer piercings, but adds some attitude borrowed from our Serpentine collection. Daith piercings bring depth to an ear arrangement, so a simple hoop can be amplified by playing with other shapes and proportions on the lobe and helix.

A healed piercing affords wider scope for styles that work best in tight spaces, like our Double Diamond Barbell. The contoured shape makes it perfect for the daith and for the rook; adding wear-with-anything diamonds ensures its spot as an essential in your jewelry wardrobe. The diamonds seem to float in the daith as though suspended in midair.
If you'd like to upgrade your hoop earring once your daith piercing has healed, look at a gem-encrusted Lock Hoop. Our version features diamonds prominently on one side, since earrings in the daith lie flat instead of in the round. The Lock Hoop adds a hint of glimmer to make for a head-turning accessory, one that enhances even the most meticulously curated stack.
The key to daith-piercing jewelry is taking advantage of its unexpected placement in the ear. The daith won't be able to handle all piercing jewelry. But that's fine. Constraints foster creativity. Play around with fun, bulbous shapes like hearts. Or try a hoop in a different metal for a mixed-tone look. Make the word "daith" worth learning how to pronounce.