How to Remove Threaded Flat Back Earrings | Porter Lyons
How to Remove Threaded Flat Back Earrings
How you remove piercings is just as important as how you put them in.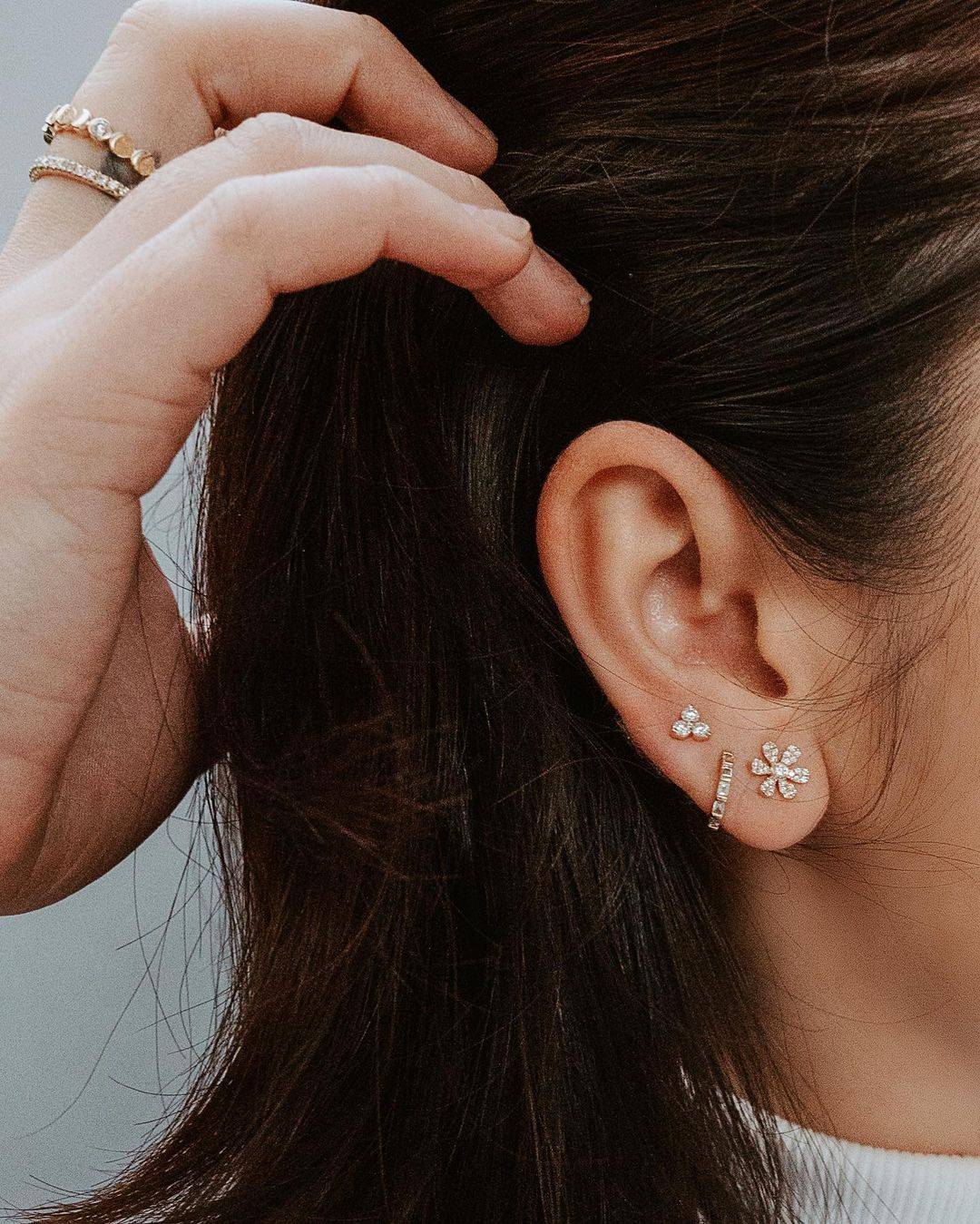 When it comes to piercings, what goes in must also come out. You can comfortably wear our flat back earrings all day long and all night long. But every now and then you'll want to try new jewelry styles. In any case, it is a good idea to change your studs once the piercing has fully healed; the post lengths for a new piercing and a healed piercing are not the same.
Properly removing a piercing is an important skill, but not one hard to master. Follow our steps and tips to remove your flat back earrings with ease.
How to Remove Threaded Flat Backs
If you've watched our how-to on inserting threaded flat back earrings (here's the YouTube video), you pretty much know how to do it already. Essentially, you follow the same steps in reverse.
Hold the front and back ends of the stud and slowly unscrew the front of the flat back earring. You can also unscrew the back of the stud to take off the earring, if that's easier depending on where the piercing is located. Take your time; the earring can sometimes get caught in your ear.
Be Gentle
Threaded flat back earrings can get stuck for many reasons. So it is important to remove them gently. Wiggle the flat backing around instead of yanking it out. Doing so will help prevent tears in your skin or any pain that may come from swelling.
Skin irritation can enlarge the piercing site as your ear reacts to different metals. To reduce this sensitivity, Porter Lyons crafts all of its pieces with solid 14K gold.
Other Tips for Removing Threaded Flat Back Earrings

Aftercare for your ear piercing is very important and extends to jewelry removal. After removing a flat back, clean your healed piercing before inserting new jewelry at this site.
Wash your hands before and after removing your jewelry. Then gently wipe around the piercing site with a cotton swab or ball soaked in saline solution to clear the area of any debris or bacteria.
If the earring is getting caught, wipe a small bit of oil or petroleum jelly around the piercing site. This will create some slip for the backing and may also soothe any swelling.
When starting to remove your earring, you may find that the stud is already loose. It is normal for threaded flat back earrings to loosen up over time, especially if you wear them daily. After putting them back in, keep the flat backs secure by taking a minute every few days to gently screw the front parts into place.
Porter Lyons is happy to help you keep your piercings in top shape. If you live in the New Orleans area and want to arrange a new piercing, we're ready to provide you with the best ear piercing experience. Simply schedule an appointment and we'll help you select the most appropriate piercing earring, curate your personal ear stack, and show you how to care for your piercing. Need help with earring change outs? We also offer walk-in appointments for $15 change outs. We're happy to help!