Snake Rings Are Badass | Porter Lyons
Snake rings left a coiled mark on history and their influence shows no signs of slowing down.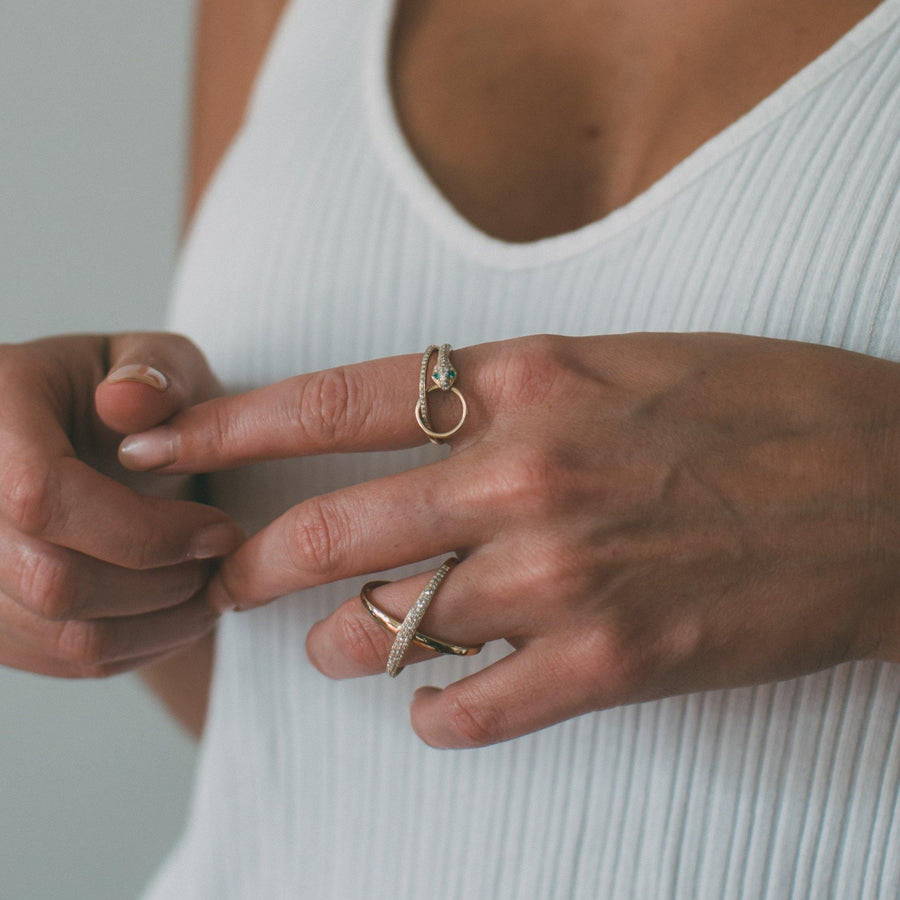 The familiar coil of snake rings is a time-treasured accessory that sparks imagination and inspires folklore. They have been worn as a personal symbol or talisman. They have also served as a canvas for precious gemstones like emeralds and rubies. Rendered in smooth metal or featuring detailed scales, snake rings have remained relevant for centuries.
Cultural Symbolism of the Snake Ring
The shape is a clue to its endurance. Snakes can take the form of a circle, an ancient symbol of eternity and wholeness. Many religions and cultures have used the image of a coiled snake to symbolize everything from darkness to healing. A prominent example is the ouroboros, an ancient Egyptian symbol of a snake eating its own tail, a representation of infinity. We revere and marvel at these deadly serpents even as we try to tame them.
The discovery of King Tutankhamun's tomb in 1922 enlarged our understanding of the cultural significance of snakes. The headdress of the young king featured a cobra, in his day a widely used emblem of royalty and protection.
Historical Influence
Many centuries after the brief reign of King Tut, another and longer-lived royal figure had a major influence on the transition of snakes from cultural symbol to fashion accessory: Queen Victoria, England's monarch from 1837 to 1901, a lover of fashion and jewelry whose wardrobe was detailed in newspapers and lifestyle magazines.
The lush coverage—the most extensive thus far of an English royal's stylistic choices, thanks in part to the advent of photography—made Queen Victoria a global influencer, particularly in weddings. The engagement ring that she received from her beloved Prince Albert was fashioned in the image of a serpent. The coiled gold ring had rubies for eyes and an emerald head, emerald being the queen's birthstone.
By modern standards, a serpentine engagement ring is unconventional. But to the Victorians, and Victoria, snakes represented wisdom and commitment, as they did for the Romans. The ring helped popularize engagement rings as a public symbol of intention, and the ceremony that followed cemented another trend: the white wedding dress.
Modern Interpretations
Snake rings continue to bring cultural significance to life with visually stunning techniques. Porter Lyons contributes to the tradition with fine jewelry interpretations in our signature style.
We embrace the smooth feel of solid 14K gold in our Snake Coil Ring. The head glitters with emerald eyes and a path of diamonds snaking up its back. A stacked tail, best highlighted when the Snake Coil Ring is worn as a pinky ring, adds heft.
The Snake Veve Ring manifests a similar aesthetic with an open approach. The serpent's head is outfitted with pavé diamonds accented by ruby eyes. A thin tail loops around the finger to intersect with a circle in the snake's mouth. The design is a symbol of infinity, bringing ingenuity to the familiar.
The appeal of these interpretations confirms that snake rings are far from a passing trend. One day, they will be the treasured relics of our own culture.